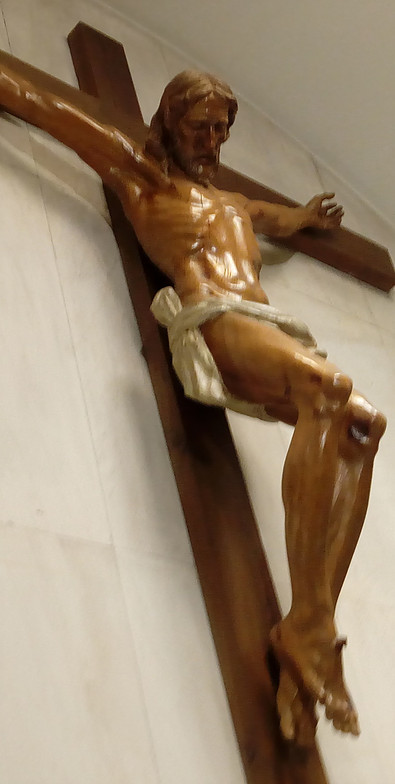 To live on his priestly love: Eucharist and Redemption.
Moved by the love of Christ the Priest, our life is offered for the holiness of priests and the Church.
To quench his thirst for souls, for priestly holiness.

The emblem of the Congregation is a living expression of the Mystery of Christ the Priest: the Eucharist and the Cross, on which our life is centred.
Charisma of the congregation
​​
The Congregation of Oblate Sisters of Christ the Priest was born in Madrid in 1938. It is a monastic congregation of entirely contemplative life. The Oblates live totally dedicated to God "in solitude and silence, in constant prayer and austere penance."
Its founders, Don José María García Lahiguera and María del Carmen Hidalgo de Caviedes y Gómez, deeply felt the need for holy priests in the Church and strongly sensed the heartbeat of the Heart of Christ at the peak of his offering: "Father, I pray for them and I consecrate myself for them".
PRAYER is the constant occupation of the Oblate, either by praising God through liturgy, by mental prayer in silence or through the work of daily life.
THE SPIRIT OF OBLATION is the distinctive trait of the Congregation. By her profession, the Oblate is united in a special way to Christ the Priest. Her offering, together with the redemptive sacrifice of Jesus Christ, becomes reality and it is continuously lived through the progressive configuration with poor, virgin and obedient Christ until His death in the cross.
All this done in a simple and cheerful framework of common life that, within the spirit of solitude and silence, gives the oblate constant opportunity to practice the virtues: especially humility and charity. In this way, the community forms a single heart and a single soul merged into the same spirit and a single Love, which is Christ.